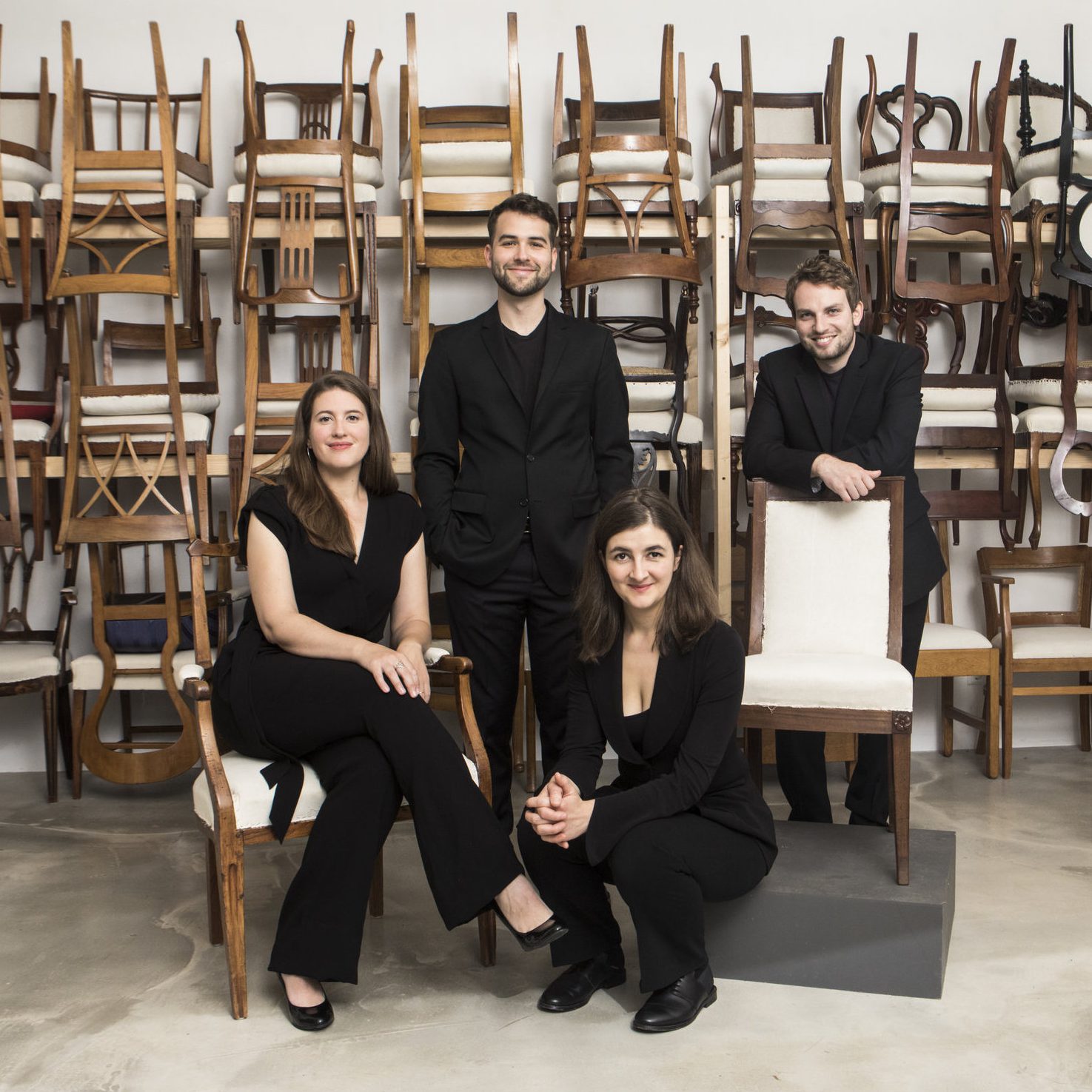 I am a co-founder of Damask, a vocal quartet based in the Netherlands formed in 2014. With French mezzo-soprano Marine Fribourg, English tenor Guy Cutting, and Canadian baritone Drew Santini, Damask gives voice to the stunning but neglected repertoire for vocal quartet, from the piano-accompanied chamber works of Schubert, Schumann, Brahms and Haydn to music of the 20th and 21st centuries (a cappella and with various instruments) by Milhaud, Messiaen, Stravinsky, Schönberg, Ned Rorem, and David Lang, among others. Equally important to Damask's mission is the broadening and enrichment of the repertoire through regular commissions of new works written for the quartet's unique beauty, unity, and versatility of sound.
Damask has been featured in festivals and series in the Netherlands (Muziek in het Zevenbruggenkwartier, Ouderkerk Muzikale Herfst, Westerkerk's cantata series, Operadagen Rotterdam, Noorderkerk Concerten) and Germany (Internationales Kammermusikfest Ruhrtal) and in concert venues in France (Paris), the United States (New York), and England (Salisbury). In 2017 the quartet was a featured ensemble-in-residence at the prestigious Aldeburgh Festival where it benefited from an intensive working period with pianist Roger Vignoles. Damask's focus on commissioning has led to close collaborations with other ensembles, including Oerknal! New Music Collective and New Vintage Baroque, that have resulted in major new works by Gregory Spears, Reiko Füting, and Lewis Nielson.
Photo by Joris-Jan Bos.
An avid reader and word nerd (to a fault, maybe), I take as much pleasure from immersion in text, historical context, composer and poet biography, and language as from musical and vocal work. As a result, I relish thematic programming, translation, textual analysis, and program-note writing. I'm always happy to mind-meld with like-minded musicians and friends, and I hope that I never get too busy to lose myself in tunnels of multi-front preparation for days at a time.
Listen to a recording of a live performance of Ravel's Trois Poèmes de Stéphane Mallarmé from the West Cork Chamber Music Festival in Bantry, Ireland, preceded by a short discussion of the gorgeous Symbolist poetry.
See here a sample program from a recital of songs of Barber, Messiaen, Debussy, Szymanowski, and Medtner, including original notes, digital design, and some original translations.